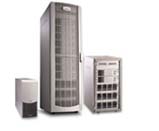 HP Proliant
HP ProLiant Generation 8 servers feature embedded automation and intelligence that cut lifecycle operations tasks, facilities overhead and downtime costs.

With HP ProActive Insight architecture, HP ProLiant Gen8 servers continuously monitor more than a thousand system parameters to optimize application performance and proactively decrease downtime, while providing organizations insight into every aspect of their IT infrastructure.



Integrity Serveri
HP je postavio mission-critical računarstvo na Intel Itanium arhitekturu. Koristi se standardna i modularna arhitektura,te se eliminišu vlasnička vendorska rešenja koja su podizala cenu i kompleksnost rešenja u prošlosti.

Tokom 2007 godine Intel i HP su postigli dogovor o nastavku razvoja Itanium procesora.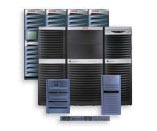 HP - Alpha server
AlphaServer sistemi sa OpenVMS i Tru64 UNIX su sinonim za pouzdanost, dostupnost, performanse, pojednostavljeno upravljanje i fleksibilnost. Na početku Digital, zatim Compaq i na kraju HP su sa ponosom isporučivali AlphaServer sisteme vodećim poslovnim, obrazovnim i državnim preduzećima širom sveta od 1992 do 2007. HP je nastavio servisnu podršku do 2012.

DIGIT je isporuku prvih AlphaServer sistema realizovao u Elektroprivredi Srbije 1993 godine. Servisnu podršku pružamo na upit.